Ceemeagain Application
ติดตามความเคลื่อนไหว และดูคลิปของ ซี ฉัตรปวรีณ์ @ceemeagain สำหรับ iOS คนใช้ iphone ipad โหลดไปใช้กันได้เลย
Description
The Thai celebrity who got her own iPhone Application. Ceemeagain provided the innovative way to keep in touch with their favorite artist.
พบกับซีได้ทุกทีทุกเวลาใน iPhone ของคุณ เพียงแค่โหลด Ceemeagain ก็สามารถอัพเดทความเคลื่อนไหวของซีกันแบบสดๆ และยังสามารถดูรูปของซีในกิจกรรมต่างๆ แฟนๆ ซี ห้ามพลาด
Key features
- The latest news and updates from Cee in your hands.
- See Profile, Portfolio, Website.
- Slide Show with Last Update Online Photo.

- Enjoy with gallery and clip video update everyday.
- Social Media integration (Facebook, Twitter, YouTube).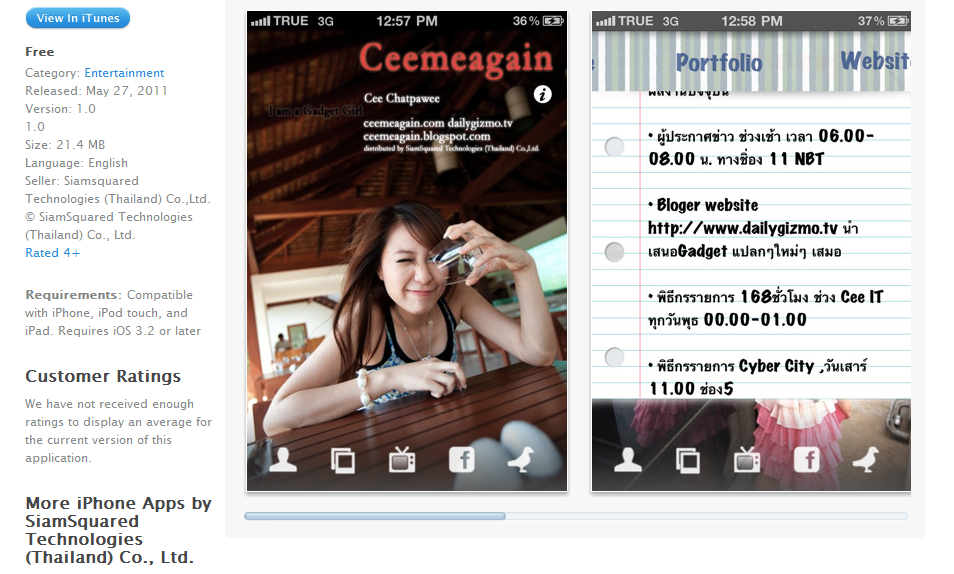 Download >>
http://itunes.apple....436957793?mt=8#